Hopefully any questions you may have will be covered here. Please feel free to contact us if you have any other queries.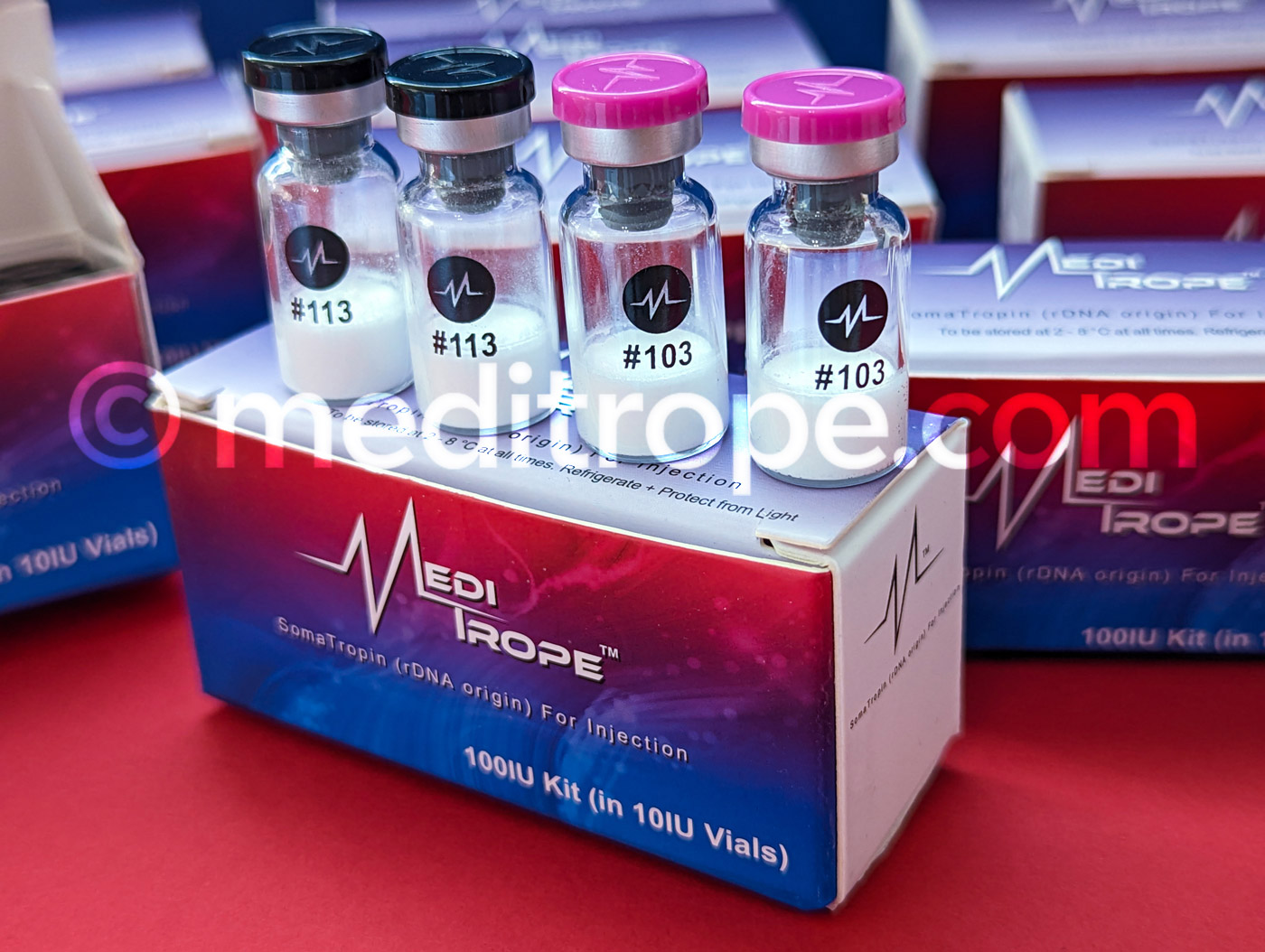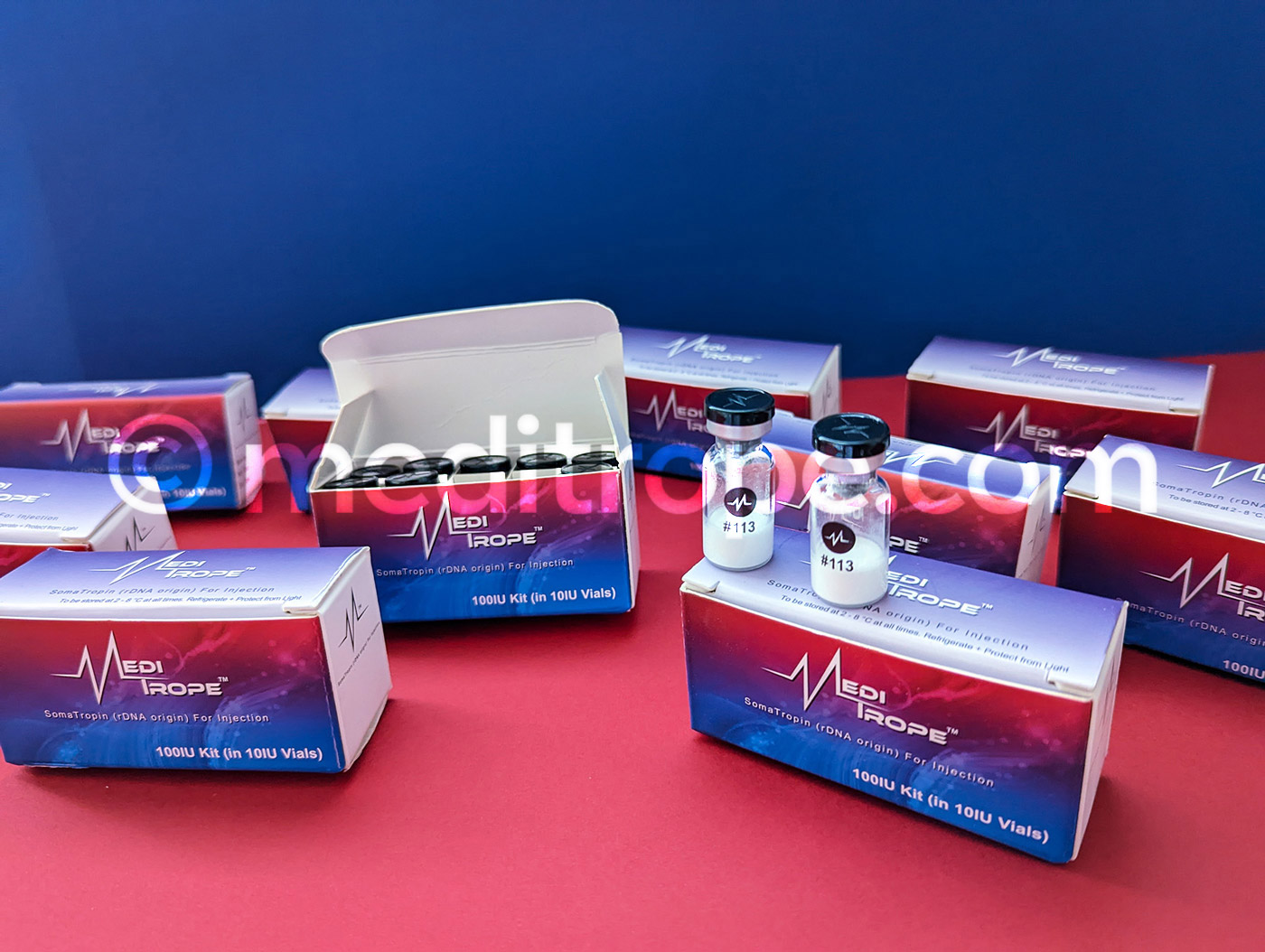 How best to figure out the strength and quality of your GH? What is the best protocol for GH testing and dosing in real time which would help me plan and manage my course better?
All GH/ HGH converts to IGF in the liver on top of whatever else is going on in the liver which once again further impacts the GH to IGF conversion depending on a number of internal and external factors.
To check the strength & quality of your Meditrope GH/ HGH we best advise you to test it with blood serum GH test with or without IGF score added to the test.
Our clients have always had better testing results for their goals as they are ''green numbers '' proving what the Meditrope HGH/ GH is doing in your own bloodstream & to your bodily chemistry which will give you a direct early indicator of your courses growth & potential. We recommend this serum test to be done after 2 weeks of Meditrope GH/ HGH administration or any other GH brand for that matter.
When Meditrope GH/ HGH molecules are in your blood and you give a sample to a laboratory you will get ''green numbers'' meaning how high Meditrope GH is raising your blood serum levels of growth hormone Vs relying on the data obtained by a external means where you as a subject is not a participant in the testing protocol.
HPLC testing has been deemed unnecessary for gazing personal results for athletes & to foresee future growth projections of a course for a individual athlete hence why HPLC method is not quite desired by clients across the globe for personal testing purposes. Seeking blood serum levels of HGH/ GH with or without added IGF score should be the top most priority for athletes of all disciplines to enhance their performance & recovery abilities.
HPLC testing is quite a mechanically challenging, intricate & lengthy procedure and it is best performed at the GH/ HGH production facility itself, where the GH/ HGH is manufactured to start with, in a ''strict environment with tightly controlled variables'' just before a batch goes through its final stages of processing right before the vials are properly vacuum sealed in the final stages of a batches production line and than it gets packed and shipped out to clients all across the globe.
Once the GH is in your hands, clinically speaking, your most desired Meditrope HGH or any other GH for that matter, test results would come in ''real time'' when the HGH is in your bloodstream and you ought to give a ''green sample" to a blood testing laboratory in your country.
This must to be followed by all as a gold standard green stats test with or without your IGF score to see the true representation of GH in your bloodstream.
IGF score is not that really important stats as long as blood serum levels of Meditrope HGH are high and you will be getting all the desired results of HGH. It is the direct representation of how elevated the GH/HGH levels are in your body & how good its working for you. It will be preferable to have a high IGF score too but if it's not high this is most certainly not a reflection on the GH strength or quality or the actual desired effects of Meditrope GH/HGH which you will be definitely benefiting from during the course instead it is very much a "red flag" that your Hepatic Portal System is not supporting you at the optimal level, why the IGF score is lower than the HGH serum score.
So further investigation into complete liver blood values is advised to get a overview of what is going on underneath and then one can try various OTC remedies to restore hepatic systems functioning and get the liver functioning at optimal levels which would further bring about a surge in IGF stats over time for a synchronised elevated serum and IGF score all together of Meditrope GH/ HGH. You will still continue to get all the listed benefits of Meditrope GH/ HGH even if your IGF score is low provided your serum levels are higher at all cellular levels.
Therefore clinically the conclusion is drawn that IGF results can be skewed due to a number of other factors in an athlete's regimen & must be addressed by the athlete who receives low stats for IGF but high score for blood HGH serum by revisiting their entire plan of diet, nutrition to the usage of other super supplements in their regimen.
Spend your money wisely on testing which actually helps you directly  to decide your dosages & test the quality of your GH product in real time (Green Numbers) more accurately suited to the requirement of your health, fitness & vitality goals.
How soon will my order get shipped & do you provide tracking number?
Your order will be shipped within 1-3 working days after funds are cleared at our end. A tracking number for the shipment is provided for ALL ORDERS. Please allow us 1-2 working days to send you the tracker once the shipment has left one of our dispatch hubs depending on your geographical location.
How long is ETA for Internationally shipped orders?
We deliver to most countries worldwide. For international orders please check with us first via email to make sure if your destination is there and for custom shipping charges. You can contact us via email and we will be happy to discuss your order with you.
What is your reship policy?
We cover all orders with a one time free reship policy against extremely rare issues, parcels lost in transit for more than 30 working days from the date it was shipped to you (not counting weekends).     
Have a question
or ready to order?
Contact us here to ask us anything or to get your order going!